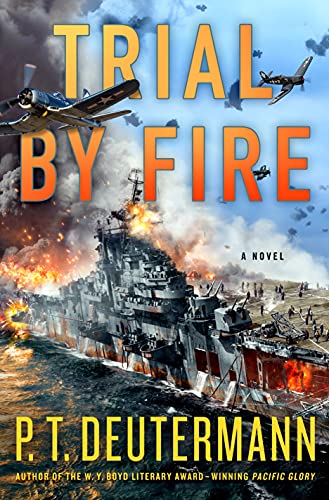 Based on a true story—P. T. Deutermann's Trial by Fire is a dramatic WWII novel of attack, survival, and triumph on board an aircraft carrier in the Pacific.
One unmistakeable sign of a terrific writer is when you pick up one of their novels … in which you have limited interest … and despite that, start reading and can't put it down until you're done.
I just finished Trial by Fire, #9 in his World War II naval series. I don't think I've missed any of his 23 novels … and while each of them has told a great story, I'm still reluctant to dive into the next one. I'm usually thinking something like … "Welll, it's about the Navy… I was in the Army … and I don't typically read WWII fiction … and yet every time, I'm glad I started reading the next one.
You can find more great novels in the Mystery-Thriller-Suspense genre by clicking this link.
P.T. Deutermann is one of the unsung luminaries in the Mystery-Thriller-Suspense world.
I was introduced to him in his four novels featuring Cam Richter, starting with The Cat Dancers more than 15 years ago. I liked that unique series a lot, but it stopped in 2009 as Deutermann migrated to a series of stories about World War II set in various navy environments. (Deutermann served in the United States Navy for 26 years, earning 19 medals and decorations and retiring with the rank of captain; his father was a rear admiral and the family has had an active member of the Armed Forces at all times for the last 100 years, so he bears a depth of unique knowledge and experience.)
In Trial by Fire, it's March 1945 and the war in the Pacific is approaching its apocalyptic climax. The largest wartime armada ever assembled, Task Force 58, is closing in on Okinawa; once taken, it will finally put American B-29 bombers in comfortable range of the home islands of Japan—and victory.
At the heart of the fleet are 14 Essex-class aircraft carriers, including the USS Franklin, known as "Big Ben"—a 27,000-ton behemoth, home to 3,600 crewmen and 100 aircraft. Just after dawn, while crewmen prepare for battle, a single Japanese Yokosuka D4Y bomber breaks through the clouds and drops a 500-pound semi-armor piercing bomb on Big Ben.
Trial by Fire is fascinating on several unique levels. First, it's a fictional accounting of the largest loss of life on a warship at that time, second only to the battleship, USS Arizona that was sunk at Pearl Harbor on December 7, 1945. The USS Franklin was an aircraft carrier, 50% longer and with a component of 3600 men onboard, more than triple the number on the USS Arizona. The Franklin was almost sunk by Japanese torpedos which killed 798 men aboard the ship with another 474 wounded sailors.
The USS Franklin is also the source of the controversial Big Ben 704 Club. (Check out that amazing story.) The real captain was a bully, realistically reconstructed in the novel, who issued membership cards to the Big Ben 704 club which he created for those sailors who, in his opinion, we're NOT GUILTY of desertion and remained on the ship through the entire ordeal. This desire the catastrophic damage to the ship, the raging furs and explosions which resulted is a huge loss of like and led to an order for those whose lives were at the greatest risk, to leave the ship by any means necessary. It'sa longer Story but a widely acknowledged failure of leadership.
It's also super interesting to look inside the structure and enormous complexity of an aircraft carrier which displaces over 27,000 tons (essentially, it's weight.) … how it's powered, how it's 100+ plans are managed, the enormity of the fuel requirements … it's an engineering marvel on all ways.
He's a great storyteller and I'd you pick it up, or start with Pacific Glory, the first novel in the series, you won't put it down.