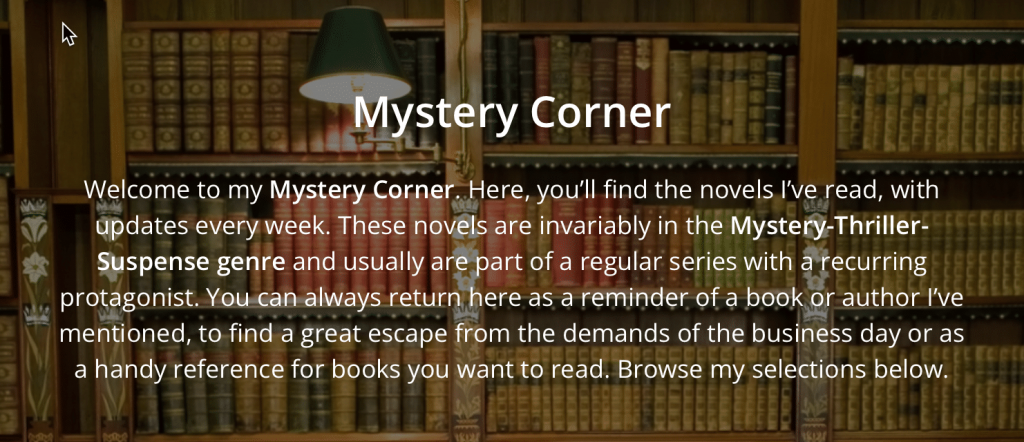 At the end of the year, I usually tabulate how much fiction I've read during the year.
This year, I read 14,687 pages in the Mystery-Thriller-Suspense genre. That's about 282 pp/week or 1,223 pp/month. I've read more like one book/week in the past, but a few books this year were longer than usual. Estimates of how many words appear on a page in a typical novel range from 250-300, so I read between 3.6 million and 4.4 million words. Whew!
It covered 42 novels from 30 different authors. In 2021, I was finishing the Spenser series from Robert B. Parker (1932-2010) who has long been acknowledged as the Dean of American Crime Fiction. As a lifelong aficionado of the Mystery-Thriller-Suspense genre, I'm finally digging into his Spenser series which started in the early 1980s. I have to say I love the Spenser character … witty, charming, tough, wise-cracking PI that he is. I'm long overdue to recognize Parker's wizardry.
If you're familiar with the old TV series, forget that. Robert Ulrich was miscast in that role but the books are great. Parker wrote 40 Spenser novels, which I read in order except for the last two which I'm savoring. Ace Atkins has taken over the series, so I'll check out those soon. If you love books in this genre, don't miss the Spenser series. Start with the Godwulf Manuscript, #1 in the series.
All of the novels I read in 2021 were series characters except for 2 novels in P.T. Deutermann's WWII series and two great novels I also think you'd enjoy, Win by Harlan Coben and The Unwilling from John Hart … books also worth your time.