What Does It Take to be a Great Leader?
What do you think we'd get if we asked everyone who writes about Leadership to offer up a definition?
Probably need a new wing in the Library of Congress, don't you think?
For some, it's everything and anything that has to do with influencing others. It's communication. It's achieving accountability. For others, it's a body of work built around values and character and timeless qualities of integrity, passion, respect, et. al. Do you have a definition that works for you?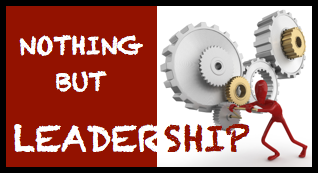 Leadership Lessons don't march in a neat formation
As we've all learned, most of life's lessons don't travel in a neat formation accompanied by bugles and cavalry. They arrive filthy and unkempt, prominent in the mess we've made around our foxhole. These lessons are typically the offspring of hubris … naivete … and ignorance … or simply from overlooking the land mines hidden beneath our feet.
This series is ONLY about practical strategies to help you become a better leader
This series is not about reiterating or re-examining the principles of leadership that so many seasoned professionals have so eloquently described. Leadership observers have extracted lessons from Julius Caesar to Patton, Jesus to Mohamed and Genghis Kan to Machiavelli … and from every president and leader who's ever graced the world's stage.
No, what I want to share with you are practical strategies that have erupted from the subterranean caverns beneath these principles. I'm interested in the bounty from the battles fought, in Churchill's words, on the beaches, in the fields and the streets.
Nothing But LEADERSHIP pulls it all together
I've been speaking and writing about these lessons for a long time, but I want to assemble them in one place where you can truly focus on improving your skills as a business leader. You may have already seen our recent R.E.S.P.E.C.T series about how to Get Respect by Earning Respect … or some of the articles about great leaders I've worked for or the smartest guys in the room who bamboozled everyone around them. I've offered practical tips for leaders who are unable to make the tough decisions along with 7 Swing thoughts to overcome adversity. We've also built a podcast series on how to evaluate the opportunities to build your business
What are the ACTION STEPS required to be a Better Leader?
These lessons are the tactics that implement sound leadership strategies. The importance of communication is on every list of important leadership principles … but what does that mean … exactly? How should we communicate? To whom? About what? How often? Strategy is always on the list … but how do you go about executing it so your strategy will actually be realized?
These are the ACTION steps that will reduce your chances of stepping on a land mine and optimize your choices to improve business performance by becoming a stronger leader. I guarantee that if you embed these principles into your everyday business decision making, the odds that you will create a sustainable business model that achieves lasting value will be dramatically increased.
Will any of these lessons actually stick with you?
Part of me is dubious that these lessons will even stick. As a parent, I'm repeatedly reminded that the life lessons we try to teach are often like seeds that land in the back of the little red wagon … and in more painful moments, that the only lessons learned will come from their own painful failures.
I don't know all the reasons why we can't impart these hard-fought lessons to our children … or to our colleagues, friends, business associates … to help them avoid the same mistakes. Every parent spends sleepless nights trying to unravel that conundrum.
The Powerful Voice of Failure
I do know that part of it is because there is no more powerful voice than the pain of failure. If the pain is intense enough, most of us will do almost anything to make it go away. Sometimes it's severe enough to embed the lesson for life; at other times, the lesson is lost until we smack ourselves in the head for again forgetting it.
I do know that you can immediately apply these practical strategies to your business or organization. Some of you will get it right away, and will implement these concepts to build a formidable foundation to accelerate your success. Others may struggle, but if you stick with me … reach out to the community to ask questions and get advice … you'll see your effectiveness as a leader grow.
Let's Get To Work!
This is not idle chatter. These are real, hard core … timeless findings that are rooted in battlefield experience. They're not theories or ivory tower puffery that might work … or might not.
So, join with me on this journey and let me show you some of the most valuable principles you'll ever learn to build a successful business, reduce the risks of mishap and accelerate your own progress as an effective executive.
We'll pull out the Leadership Swords every Tuesday. I'll be jostling for a little of piece of your brain to capture these proven tips and will be at the helm of our conversation on these pages. Let's work together to become better leaders. What do you say?
Why not subscribe now to make sure you don't miss anything – and make sure you let me know if we are missing anything!