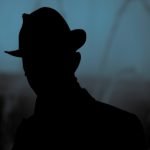 Welcome to our first Fiction Friday. I'm excited to start spilling my guts about the great reads in the mystery-suspense-thriller genre. I previewed this new series earlier this week, so I don't need to repeat it … other than to remind you that I intend to roust your senses, pillage your serenity and stimulate your discovery of the good, the bad and the only genre where a ranch breakfast is a steel metal jacket dipped in cordite. We'll end up with a rogue's gallery of unaccountable tough guys, a few cerebral types and some shameless sidekicks. Mostly, we'll just take a break and have some fun.
For now, we'll set aside any analysis of what is mystery … vs. suspense … vs. thriller. There are many who have tried to tease these apart … but for us … for now … it's a distinction without a difference. Let's just find some great stuff to read.
First, take a look at the bookshelf widget in the right banner, compliments of Shelfari. I'll update it each week with books I've read, am reading or am savoring … I'll tell you which each time … and you can mouse over each one to get a little more information about it. Cool, huh? This week it includes books I've recently read and you can't go wrong with any of them. I've covered a few here but can only begin to make a dent in the list. (No affiliate links included.)
Blue Heaven, C.J. Box: 2009 Edgar Award for Best Novel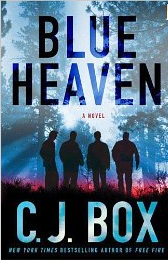 I finally got around to reading C.J. Box, Blue Heaven, the 2009 Edgar Award winner for Best Novel of the Year, awarded annually by the Mystery Writers of America. It's a prestigious award in this genre, with a Hall of Fame cast. (I'll discuss another one of the recent winners next time.) Blue Heaven takes place in the mountain country of N. Idaho in an eponymous community, so-named because so many policemen have moved there to retire.
As you might suspect, they're not all law-abiding citizens and when two young children witness a murder by a few of them, the novel takes off as the kids run for their lives. This is my first C.J. Box book, but it's a fast-paced read that picks up speed. Great way to spend a few evenings … with quirky characters. I'll be looking for more of Box' stuff.
Cobra, Frederick Forsyth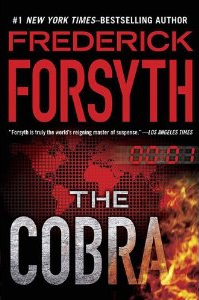 I enjoyed Fredrick Forsyth's latest novel, Cobra. The drug war rages … hundreds of billions spent since President Nixon declared the War on Drugs … yet the drug business grows unabated. The death of a young child of a White House employee prompts the President to see if his team can identify anyone who could rid the world of this plague … given unlimited resources, access to all intelligence, anonymity and immunity. Guess who?
Some seem to find Cobra either pedantic or predictable and maybe it helps to be in just the right mood … but I found it provocative and engaging to consider what could be done given the license granted to Cobra. Interesting stuff. What would you do if given the chance?
Savoring … can't wait ….
This stuff is still on the shelf but has been sitting there awhile … because I'm savoring each of them and want to hold these treasures a little longer before devouring:
James Lee Burke's, The Glass Rainbow. Love Dave Robicheaux and Clete Purcell!
Lee Child's, Worth Dying For, 15th Jack Reacher novel following 61 Hours. More later ….
Ken Follett's new WWI series begins with Fall of Giants. What a phenomenal storyteller!
Also on the Shelf ….
It seemed like there was a drought over the summer but the ass-whuppin' is starting to roil the decks! There's a lot of great stuff awaiting … I'll tell you more about some of them and their authors in future weeks … but if you can't wait, you won't miss with these writers, some prominent, some not so much:
Cody McFadyen's Abandoned, 4th book in super series about FBI Agent, Smoky Barrett
Christopher Reich's Rules of Betrayal, 3rd installment in the "Rules" series – great stuff
David Baldacci revisits his Camel Club compadres in his latest, Hells' Corner
So much more to say … so little time … see ya next week!