The holidays are here and we're still trying to figure out how we're going to get it all done. You know, all the productivity stuff we talk about?S o, instead of asking you to work at something – anything – I've decided to give you a gift of holiday music to spark your spirit!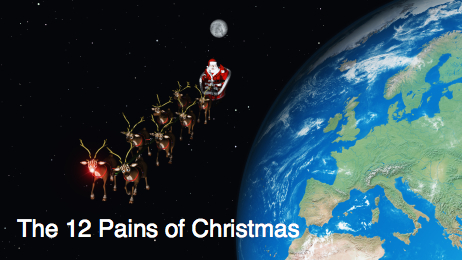 There's a lot of song-writing competition from a bunch of animated folks … Elmo, Winnie the Pooh, Shrek, the Muppets, the Chipmunks … so what can go wrong with my brilliant effort at song-writing?
There is a remarkable breakdown of taste and intelligence at Christmastime. Mature, responsible grown men wear neckties made of holly leaves and drink alcoholic beverages with raw egg yolks and cottage cheese in them. ~ P.J. O'Rourke
Yeah, I know, don't quit your day job.
So, feel free to sing along to the tune of the 12 Days of Christmas. Key of D Sharp, please.
All together now:
The first thing in business that's such a pain to me… is the never-ending stinking eee-mail.