Last week, as an Adjunct Professor at USF, I had the opportunity to once again participate as a judge for the Fall 2015 University of San Francisco Undergraduate Pitch Competition.I f you're concerned about the ambitions and creativity of graduating students these days, don't be. They're on it.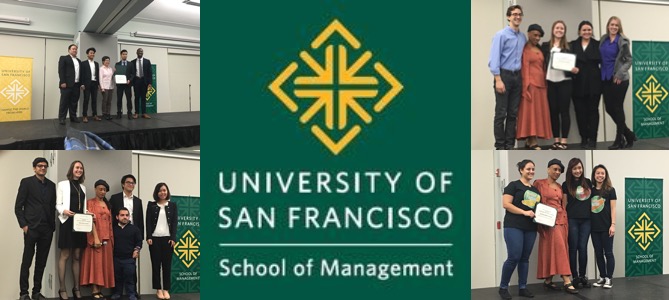 The Entrepreneurial Studies Program in the School of Management at the University of San Francisco is ranked in the Top 20 of America's Most Entrepreneurial Research Universities by Forbes (August 2015). An important part of this program is the Annual Pitch Competition which has been held in 31 consecutive semesters over a 16 year period. Dr. Mark Cannice is the Department Chair and Professor of Entrepreneurship and Innovation at USF. Dr. Monika Hudson is the principal organizer and presides over this challenging and entertaining event, attended by more than 200 students.
The Spirit of Creativity is Alive and Well and Kicking
The Undergraduate Pitch Competition highlights the spirit of innovation and creativity among graduating seniors seeking a business degree.
In short, the students are graded in these categories:
Delivery:

Eye contact (looked at/connected with audience),

Movement (expressive, comfortable),

Voice (rate, pitch, is the volume natural?),

Fluency (articulation is clear and smooth).

Content:

Introduction – does it gain our attention?

Is the customer pain defined?

What market research/validators can be identified?

What's the marketing strategy and value proposition?

Viability:

Would you willingly put $100,000 of your money into the concept as presented?

Effectiveness:

A clear "ask" for a specific investment amount.

A specific plan of how the proceeds will be used.
Each team had 90 seconds without visual aids to make its pitch. The panel of judges had two minutes for questions, comments and suggestions.
Innovation distinguishes between a leader and a follower. ~ Steve Jobs
Keep reading to see the winners and some of the most innovative ideas ….