Only Time Will Tell by Jeffrey Archer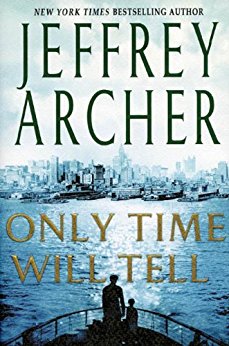 It's time for me to tackle the Clifton Chronicles by Jeffrey Archer, a fabulous English storyteller.
Archer is the bestselling author … of over 330 million books … and begins this ambitious series with Only Time Will Tell. You can see Archer's short video about the Clifton Chronicles here.
The epic tale of Harry Clifton's life begins in 1920, with the words "I was told that my father was killed in the war."
"A dock worker in Bristol, Harry never knew his father, but he learns about life on the docks from his uncle, who expects Harry to join him at the shipyard once he's left school. But then an unexpected gift wins him a scholarship to an exclusive boys' school, and his life will never be the same again."
The only catch is that the Clifton Chronicles is a series of 7 novels totaling over 2,500 pages. Whenever I approach such a big series, I always wonder if it will keep my interest, but in my experience with all of his other novels, Jeffrey Archer's storytelling is second to none.