PREPARE to Win … or get ready to get your butt kicked!
In our travels, we've seen plenty of obstacles to success, from making the tough decisions to staying focused on execution.
As if all that isn't enough, there are still a few more barricades around the corner.
Lack of preparation is one of them.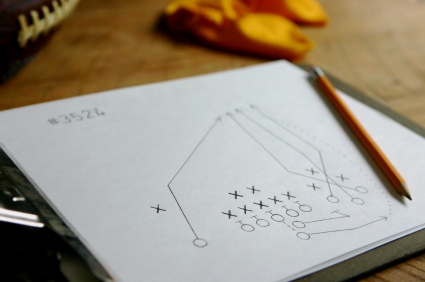 Do you hold your nose when you hear the word Training?
Some of you prabably want to hold your nose when you hear the word training, but you couldn't be more mistaken.
Training may not be the sexiest term, but when you think of it as education and learning … it equates to Preparation, one of the key differentiators among the most successful companies.
How many people have the will to lose?
How many of us have the will to lose?
Few, I'd guess … probably somewhere between zero and none.
How about the will to prepare?
The determination to do the unrelenting hard work to prepare to win … maybe not a lot more … and yet that's exactly where the rubber mallet hits the lobster claw.
How do you spell success in the NFL?
P.R.E.P.A.R.A.T.I.O.N.
What could be a greater example of the power of preparation than the professional game of football … college programs included?
I've written before about the Alabama football team and some of the leadership principles embodied by coach Lou Saban, and even about some of the more iconoclastic football ideas fostered by David Romer, a Cal economist.
Think about it for a minute.
Preparation begins with a robust coaching staff, including a Head Coach and from 17 Assistant Coaches (SF 49ers) to 19 assistants (Oakland Raiders).
Here are some of the full-time coaching positions:
Offensive Coordinator
Special Teams
Linebackers
Tight Ends
Passing Game,
Secondary,
Offensive Quality Control,
Wide Receivers,
Running Backs,
Offensive Line,
Assistant Head Coach,
Defensive Coordinator,
Quarterbacks,
Strength and Conditioning …
Whew.
How much effort would you extend for only 2 hours of playing time?
The season starts with 90 players in training camp, and ends up with 53 players on the active roster during games, so that only about 20% of them are on the field at any one time.
There's about one month of training camp, five weeks during the exhibition season, then 17 weeks of football with 16 games before the playoffs.
In all, a 6-month season with practice almost every day.
For what again?
A typical NFL football game averages less than 12 minutes of actual playing time
That's only about six minutes for a player playing on every down on his side of the ball,
For 20 total games or about two hours maximum playing time per person for the entire season.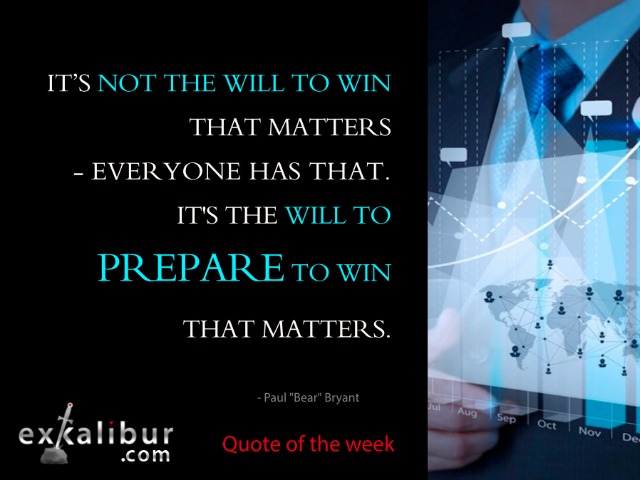 Would you spend time learning an 800 page playbook?
Oh, did I forget to mention that some of the playbooks that the players must learn run to 800 pages?
Dick Vermeil, the legendary Eagles coach some 30 years ago had a playbook of 700 pages.
Here's what he said about it:
"You show it to an everyday person … and they can't get over it," he said. "They just couldn't envision what was going into NFL preparation."
We're working hard to provide practical strategies, tools and tips to help you become a More Effective Leader. Check out the Featured Articles in our Leadership Library.
There's no substitute for Preparation
All of this?
It's Preparation with a capital P … and it probably should be written PREPARATION.
Sure, you can say that the NFL teams can afford all of this and I can't.
How can I afford that kind of preparation … read training or education … in my business?
Maybe you can't do it all, but it's pretty clear that exceptional performance requires a substantial commitment to the training and education processes you embed in your business.
Check out the Container video to learn about their training regimen
Take a moment to view a short, three-minute video about The Container Store and its focus on an employee-centric culture rooted in a training program more than 30 times greater than the industry average.
It's been around for a few years, but it still exemplifies their success, even during the Great Recession, through their dedication to employees and their training regimen.
Preparation is the Key to Winning. Without it? Not so much!
Instill the will to prepare in your organization
How much time do you devote to training, education, mentoring and lifelong learning for all of your players?
Do you have enough coaches and mentors?
Is one of them assigned to every employee?
Do you use a detailed playbook or is everyone running their own plays from the seat of their pants?
It may work on the sandlot but in business?
Not so much.
Question: What's the most important Act of Preparation that your company regularly performs?
How would you answer that? Let me know and we'll build on that to expand our discussion of these ideas and concepts. If you're active there, you can connect with me on LinkedIn. You can also find me on our Building a Business page on Facebook or on Twitter.