A Weekly Personal Productivity series to help you get more done!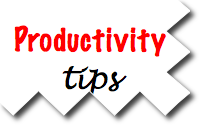 Every Thursday, I'm sharing a new Personal Productivity Tip to help you get more done. Each Productivity Tip is a remarkably simple tool or concept that can be quickly implemented to make a real difference in your personal productivity. When you apply many of them together, they'll make a big difference in improving productivity, achieving accountability and staying focused on the things that matter the most in your life.
You may want to check out some of the posts in this Productivity series, including the the value of checklists; the importance of getting rid of the crappy stuff;  the nightmare of the cluttered mind; and that feeling of being buried all the time. You can also leverage your resources and apply the lessons of the ARCI chart and the S.M.A.R.T. goals to boost the accountability of your entire organization.
____________________________________________
Good Question – How DO you get more done?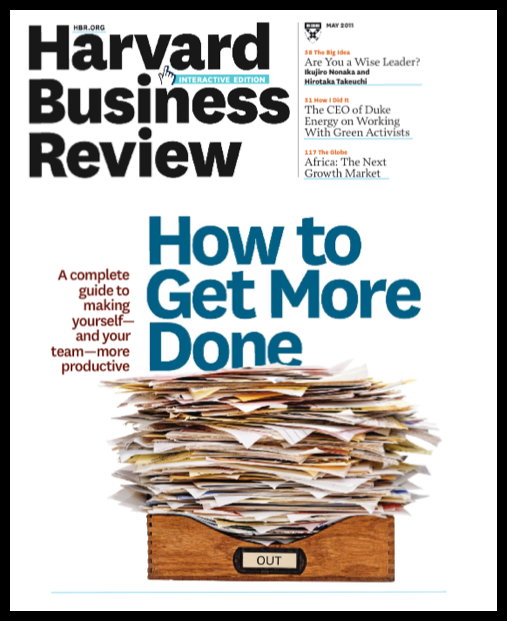 By now, some of you have seen the latest Harvard Business Review with this cover.
I don't think a day goes by when we're not pondering how to get more done.
The Being More Productive article is an interview with David Allen of GTD fame and Tony Schwartz at The Energy Project, who leads a growing movement concentrating on optimizing and renewing our energy to become more productive.
In fact, the first thing you see when you visit the home page of The Energy Project is a statistic that we all know: 72% of people have trouble focusing on one thing at a time, something we covered in Are Distractions Destroying Your Brain?
I doubt that it's really that low.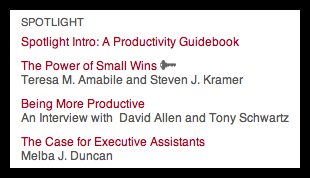 There are several articles in this guide, as you can see from the quick snapshot.
Take a look at some of these articles and let me know what you think? Any tips there that are  working for you … or is it all just old news?
I'd answer that question myself … but I think I'm a little overdue for my nap.