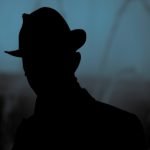 Wow, is it FRiction FRiday already? They sure seem to come up fast … even though some weeks are pretty long … so let's kick up a few more rocks and talk about our favorite mystery-thriller-suspense novels. [All names in Bold Italic … BLACK for authors, titles in GREEN, characters in ORANGE … except URL references in RED. No affiliate links.]
It's been great to to hear from so many of you. I'm thrilled we've found each other … but don't hesitate to add your comments and questions in the FRiction FRiday blog posts so everyone can see and share. Remember, we don't have to agree … I fully respect your right to be dead wrong! Just kidding … kind of. ;>)
Top Ten Favorite Characters
I guess this is the time of year for lists … Christmas Lists, Top Ten everything lists from 2010, New Years' resolutions … so I'm joining in by TRYING to create a list of my Top Ten Favorite Characters from the mystery-thriller-suspense genre. Not all at once, mind you … but over the remaining few weeks of the year.
I wasn't really sure how hard I'd have to scrounge to find TEN that I really love … until I started writing them down. Now, I've already had to create an Honorable Mention category for those that didn't make it … with explanations for each about why they didn't make it … and each is for a different reason.
For now, I've also decided against any 1-10 ordering since they are all so great … and for different reasons. I couldn't, for example, put Dave Robicheaux below about anyone … or Jack Reacher … or Lucas Davenport … or several others. So, there's just going to be a list … and you you can pick from it for some great characters to follow.
My list will begin to unfold next week … I'd like to hear about your favorites, too … but ….
Maybe there is a Top Five Favorite Characters?
Hmmm … maybe … but, of course, you'll ask how can I create a Top 5 if I can't put the Top Ten in any order? Good question … but when I look at the list, there are some that are MORE FAVORITE than others. One prominent thread among virtually all of the Top Five (or so) … is longevity, a series that I've been indulging in for a long time. We'll see but I have a feeling that most series with less than 10 books probably won't make it … probably further confirmation that for many of us, these series characters become old friends that we're always eager to meet again.
Next week, you'll see the list begin to unfold ….
More juice ….
No time to comment but here's a pic of another stack of books I've read to jostle your reading fires. Do you know everyone here? Yes, I know, some of the titles are cut off. What's better than a good hunt, Anyway? (Drop me a note and I'll figure it out if you can't.) Maybe there's a contest brewing in here?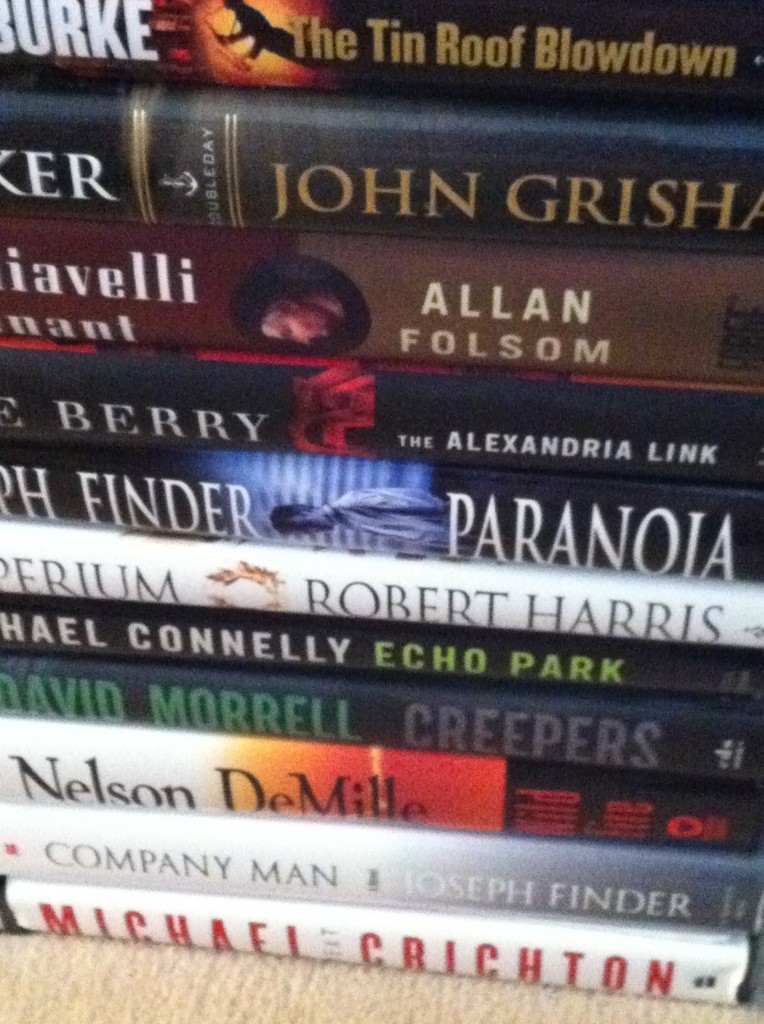 Bookshelf software
Shelfari continues to be on hold for the moment but I intend to sort it out over the holidays. Need to get a little deeper there and will report back next week. In the meantime, let me know if you have any experience with it … or with Goodreads or Collectorz or other bookshelf software.
Now Reading …
David Baldacci revisits his Camel Club compadres in his latest, Hells' Corner …
Still Savoring …
Nothing's changed here … but here it is ….
James Lee Burke's, The Glass Rainbow. Love Dave Robicheaux and Clete Purcell!
Ken Follett's new WWI series begins with Fall of Giants. What a phenomenal storyteller!
Cody McFadyen's Abandoned, 4th book in super series about FBI Agent, Smoky Barrett
Bob Lee Swagger appearing in Dead Zero for the 17th Bob Lee Swagger series
Just arrived …. and arriving
Emperor's Tomb, #5 novel in Steve Berry series starring Cotton Malone and Cassiopeia Vitt. You can read aninterview with Steve Berry here.
Brad Meltzer, The Inner Circle … coming in January
Jack Higgins with his favorite Sean Dillon character in his 19th book … Judas Gate coming in January
So much more to say … so little time …. What are you reading? Who do you like?
See ya next week!