Our leadership prowess is always on the line but nowhere more clearly than on the starting line at the Indy 500. As a sports fan of any sport … you'd be hard-pressed to find another event with more powerful lessons for leaders.
Welcome to the Greatest Spectacle in Racing and the largest crowd for a sporting event in the world.
You're all in, 24/7 for 365 days … with victory in a 33 car lineup about 3 hours away. Do you understand the leadership requirements to achieve victory when there is no do-over?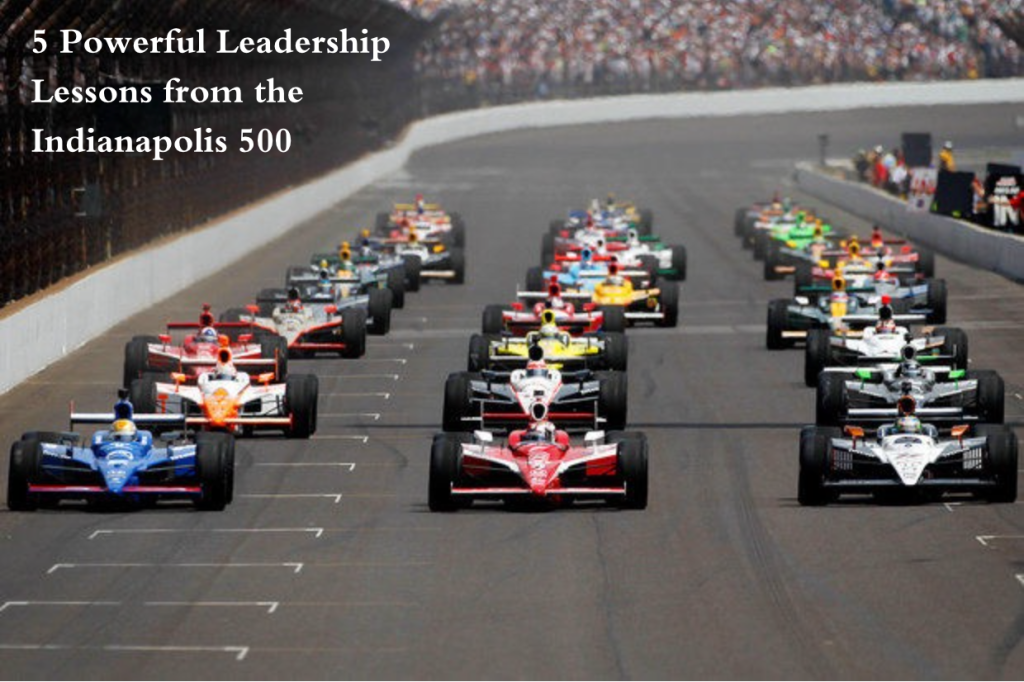 Close only counts in horseshoes and hand grenades
This past Sunday, May 29, 2022… and with a spread of only 1.792 seconds – yes, that's about 2/10 of one second – Marcus Ericsson edged out Patrick O'Ward for his first Indy 500 victory.
Bummer – Scott Dixon who set the all-time record for leading the most laps at Indy, led for most of the race but was penalized for going to fast coming into pit row.
I've been following this race for more than 50 years
For over 50+ years, I have listened to … and starting with the first live, same-day telecast in 1971 … watched the Indianapolis 500.
Every year.
Without fail.
What do I know about cars?
Nothing!
Really, I should say Absolutely Nothing!
I am not a car guy. I know virtually nothing about cars – I can pump the gas, change the oil … oops, I mean add the oil … and probably change a tire in an emergency – but nothing else.
I don't watch any other races during the year and have very little knowledge of most of the drivers.
So, what is it about the Indy 500 that captures my attention every year?
The Indy 500 is pure Americana.
It's America at its purest … if only for that moment frozen in time.
Yeah, I know it's a little corny … but I don't care.
I admit there's a lot of nostalgia mixed in there, leavened with a dose of wishful thinking … yes, it could be a Norman Rockwell painting.
Maybe it's only a wistful nod to the days when Father Knows Best and Leave It To Beaver represented a family ideal … I suspect you've never heard of those shows … or maybe because I was born and raised in the Midwest and easily identify with the values and ideals that are front and center in the pageantry that is the Indy 500.
Is it only an extravagance of commercialism?
It's true there's barely an empty space on the cars or drivers where a sponsor's logo doesn't appear. (Drop me a line if you'd like to sponsor one of my jackets.)
Hats, jerseys, racing suits – all of them are covered from head to toe with names and logos of sponsors ranging from Coca-Cola to Goodyear to Pennzoil to Verizon … the list is virtually endless.
So What? Where isn't there someone's logo?
What's included in this celebration?
Here's a brief rundown of some of the ceremony that precedes the race each year:
A moving tribute to our veterans, followed by an invocation, traditionally preceded by some form of the words you see in the quote below, including a 21 gun salute.
On this Memorial Day weekend, we pause in a moment of silence, to pay homage to those individuals who have given their lives–unselfishly, and unafraid–so that we may witness as free men and women, the world's greatest sporting event. We also pay homage to those individuals, who have given their lives–unselfishly, and without fear–to make racing, the world's most spectacular spectator sport.
Keep reading for the 5 Powerful Leadership Lessons from the Indy 500.
A lonely bugle plays Taps, brings tears all around … to my eyes every time I hear it … while the screen shows national memorials from each branch of the service.
The singing of America the Beautiful by a "Girl Named Tom", the trio who won the 2022 competition, The Voice.
The "Star Spangled Banner" sung by Jordan Fisher
Following the National Anthem, grab your hat for a powerful flyover by the U.S. Air Force Thunderbirds as the crowd goes crazy … 325,000 fans at 100% of capacity, the first full capacity crowd since the pandemic.
"Back Home in Indiana" a Hoosier favorite, sung by Jim Cornelison accompanied by the Purdue Marching Band. All 6 of the Thunderbirds roar over the speedway again.
Thousands of red, white and blue balloons are released over the Speedway during the song as the race beginning is ready to be announced:

"Drivers, Start Your Engines" – The previous "Lady (Ladies) and Gentlemen" is now replaced by "Drivers" so paying attention to the PC phrasing is no longer required. This year, the new Chairman of the Indianapolis Motor Speedway, the inimitable racing legend, Roger Penske.

Milk has been the featured victory beverage consumed by the winner, a tradition that dates back to 1936. There is actually a menu of what kind of milk each driver prefers (whole, 2%, skim), another homage to the details that reflect intentional and attentive leadership. For the record, this year's winner, Marcus Ericsson, chose whole milk.
Here's the second reason.
There are powerful lessons for leaders embedded here.
Once we strip out my wannabe nostalgia for the "good ol' days", there are some powerful lessons for leaders at the Indy 500.
I suppose every event has leadership lessons, but the Indy 500 is exceptional because there is extraordinary investment, preparation and commitment for an event … that barely lasts three hours., 
For leaders, the Indy 500 is a microcosm of how you must vigorously apply your capabilities to achieve the desired outcome … within a very demanding timeframe … knowing unexpected problems will inevitably appear … in rapid fire order with cars going as fast as 230 mph … constantly threatening a flameout of your most carefully laid plans.
5 Powerful Leadership Lessons from the Indianapolis 500
1. Preparation is paramount
2. The Devil is in the Details
There are extraordinary guidelines that specify the chassis, engine capacity, fuel types and most other variables of the car, safety design and fuel requirements included.
Although the high speeds exceed 230 mph, the average speed is much less … accounting for pit stops, about 8 per driver, and yellow warning flags … but you still travel an entire football field in less than 1 second. Speed is reported to the 1/1000 of a second so you can be sure that details are important. The Devil is in the Details.
At that speed, this year's victory margin was again less than 2/10 of a second. I doubt you could click your fingers that fast.
If you don't get the thousands of details right, you'll be in the grandstands instead of on the award stand. You might find some of the tips in The 7 Qualities You Need to Get Your Company on the Medal Stand to be helpful.
3. Leadership requires a minimum level of effectiveness
Indy cars have to hit 105% of minimum speed to be allowed on the track.
Just as in poker, there is an ante.
Likewise for leaders, there is a minimum level of effectiveness to be an Effective Leader. If you can't attain that minimal level … and achieve the outcomes required … you won't be on the field very long.
It's up to you to get yourself to a place where you can succeed … with the tools in hand that will allow you to be an Effective Leader and achieve the results you demand of yourself, your team and your organization.
Roger Penske is synomous with Indy Racing and is now the owner of the Indianapolis Raceway and a racing and automotive empire valued at $32 billion.
When the COVID-19 pandemic reared its ugly head and the cancellation of sporting events cascaded across the landscape, Indy Car racing was suspended. At a meeting during that time, one of his senior executives expressed pain and frustration over what was happening in the industry and across the globe, and asked Penske how he was doing. Penske's response is something we should all embrace:
The one thing I learned in life is everything's an opportunity. No matter how bad it seems, everything is an opportunity, and if you look at it like that, everything's going to be fine.
4. Be the hedgehog. Not the fox.
We think of speed as the key to victory in motor racing, but Indy car owners will tell you that speed doesn't win races. Endurance and Stamina do.
We've all heard the story of the rabbit and the hare, or the fox and the hedgehog popularized by Jim Collins … you know … that slow and steady pace that usually wins the race?
We beat our chest with ego aplenty when we get into the lead … and it's easy to gloat from that superior position.
The real mission is to be leading when the race ends.  Sustaining the lead is always harder than getting one. Just ask the guy who came in 2nd with a difference of only 2/10 of a second!
Ending up in the lead is hardest of all.
5. Agility separates the victors from the vanquished
You've probably read, "No battle plan ever survives contact with the enemy."
Your ability to recover from these mishaps is what separates you from the amateurs. Pistons explode, tires blow out and racetrack radios stop working.
Be prepared for these setbacks … train for them and know they're coming. It's a critical part of staying ready so you don't have to get ready.
5 Powerful Leadership Lessons from the Indianapolis 500
1. Preparation is paramount. No excuses.
2. The Devil is in the Details. Don't skip ahead.
3. It's up to you to achieve a Minimum Level of Effectiveness.
4. Be the Hedgehog. Not the Fox. Steady as you go.
5. Agility separates the Victors from the Vanquished.
Question: I'm sure there are other lessons you can take from the Indy 500. What comes to mind for you?
You can answer the question or offer your comments below. You can also email me at lary@exkalibur.com.