FRiction FRiday | Tom Clancy is Back | 
Dead or Alive
Wow, FRiction FRiday is here again? How did I get stuck with all of these tire stoppers anyway? Yeah, I know I got a break with Jack Higgins 18th Sean Dillon novel, The Judas Gate … always a quick but fun read … but before that, Ken Follet's Fall of Giants was almost 1,000 pages … and now Dead or Alive is 850pp? How can I finish one of these every week, I mean, I've got to work for living … don't I? Yes, Lary, you do!
I'm glad you're here, though … and don't worry if it seems like you landed on the wrong planet. Sword Tips is still about Building a Business and improving your leadership performance, productivity and success … but we also take a little time every FRiction FRiday to have a little fun and settle in for the weekend by uncovering a few more of our favorite Mystery-Thriller-Suspense novels.
[All names in Bold Italic … BLACK for authors, titles in GREEN, characters in ORANGE … except URL references in RED.]
By the way, make sure you sign up to get all of these and other updates sent directly to your inbox every week. Jump in to add your comments and questions, too, so we can share what we know and what we'd like to know. Remember, we don't have to agree … I fully respect your right to be dead wrong! Just kidding … kind of. ;>)
—————————————————
Dead or Alive? Usually, pretty dead!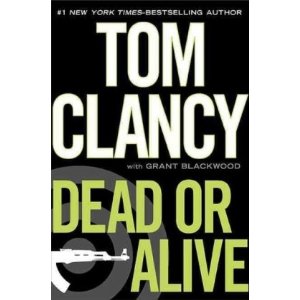 I'm almost halfway through Tom Clancy's Dead or Alive, his first novel in 10 years. It brings back Jack Ryan, now a retired U.S. President along with various members of Rainbow 6, the efficient but deadly special ops team formed many books ago. Dingo and Chavez and their brethren are in the same Sean Dillon strain of "take no prisoners".
Once again, it's refreshing to see how quickly conflicts get resolved without psychobabble and political mumbo-jumbo. Get er' done and move on. We don't get to do too much of that in real life, do we? … but it's a delicious delicacy, isn't it, to see how much gets done when you follow the straightest line between two points without fanfare, distraction or PC worship.
The "4 Corners of the Globe" Plotline
Speaking of the "shortest distance between two points", (more…)