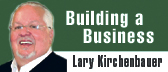 A practical approach to tracking projects and getting things done
"80% of success is just showing up."– Woody Allen
Just when I thought we had covered the waterfront with respect to accountability, I'm reminded of the linchpin of true accountability – the very simple concept of follow up. During my recent travels among area CEOs, I've been repeatedly reminded of how remarkably little attention is paid to this simple concept.
Why do we ignore the follow up?
It seems so obvious that I wonder why I'm writing about it … and yet, routine follow up is often ignored in the hustle for the next opportunity or when there just isn't another finger to put in the dike. The New York Times lamented recently about the lapse in our social manners reflected by people's failure to respond to RSVP invitations, much of which I'd chalk up to this follow up laxity.
We don't forget to follow up on our most important clients or prospects, but the falloff from there is precipitous. It's a process that is halfheartedly pursued by so many that it's no wonder so few things get done on time – or at all.
There are a number of reasons for this that you may recognize in yourself. (more…)