I'm old enough to remember how awesome it was to have several female friends who would help me sneak into the girls' dormitory after curfew.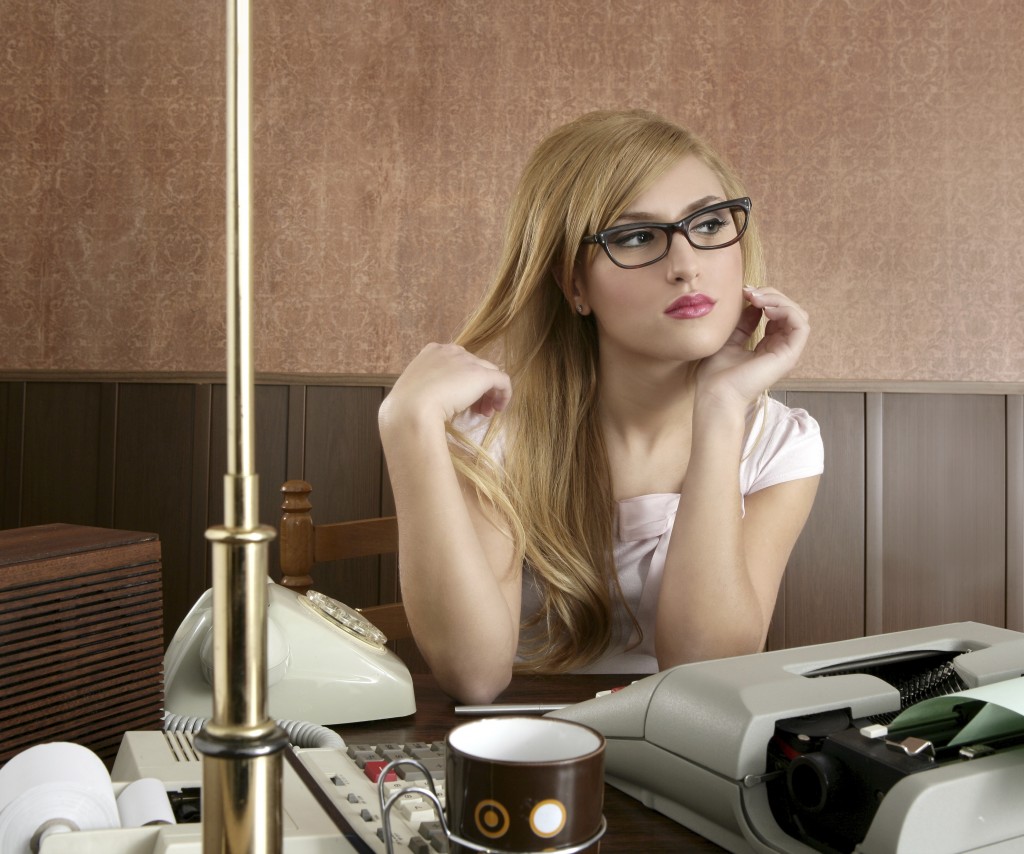 It was a bit tricky to traipse though the bushes with a small flashlight to find the back door … you prayed none of the "dorm mothers" were hovering … but it was exhilarating when you found the door slightly ajar and no adult supervision in sight.
It was a risky gambit because you knew those dorm mothers were particularly vigilant and relished nothing more than trapping a male intruder and banishing him to the Dean's office the next morning. It wasn't a visit you wanted to make, particularly because the Dean's first call would be to your Mom.
We persisted nonetheless.
I know what you're thinking … what could be more exhilarating than a late night tryst? Lucky guys, you guys.
Nope. I'm afraid the back door trysts were barely a figment of the imagination for a college freshman in those days.
Sorry. Those midnight rendezvous were for only one thing … and one thing only … to hook up with your close female friend who was sharing a battered, barely functioning typewriter with her roommates … So you could collect your overdue term paper and could turn it in the next morning. (BTW, if there were errors, you could only try to erase them with with a rubber eraser and hand-scratch in the substitute letters … if they fit!)
Yes … girls were the only ones who could type
Don't ask me why. I'm not even sure we would have been permitted to take typing class in high school. Probably, but it never occurred to any of us to enroll. Ironically, I don't recall any of my female typing pals in college ever asking why I hadn't learned to type? (A few summers later, I found my Dad's old typing manual in the attic and taught myself how to type.)
Note: For some of you younger folks, a typewriter is a mechanical machine for writing in characters by means of keyboard-operated types striking a ribbon to transfer ink or carbon impressions onto the paper.
How things have changed!
No longer are there hovering dorm mothers, Underwood typewriters or typing pals. Romantic interludes seem plentiful at all hours.
The tools at our command now are extraordinary by comparison. Today, we live in an age of mind-boggling technology, with powerful tools of communication and collaboration processes coupled with a boatload of productivity tools at our command. They're getting cheaper every day, and many of us are wed to them like sunshine to daylight.
We have such extraordinary access … to remarkably affordable tools … that we don't need to sneak into the girl's dorm to retrieve our term paper.
We're on our own today … and we can pick and choose the tools that will boost our productivity to help us achieve our goals. At Exkalibur, we focus that effort to help you become a more effective leader and build a successful business.
Today, we start a new Tools & Resources Series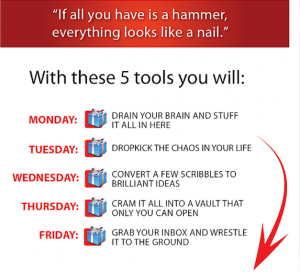 Today, we launched our brand-new, FREE mini-course on personal productivity … EXCLUSIVELY for Exkalibur subscribers … The 5 Tools I Can't Live Without.
You've probably seen many lists of tools and resources. Many active bloggers feature them or have a resource page listing all of the tools they use.
There are lots of lists but many of them don't help much
Those lists can be very helpful and I've looked at many of them myself over the years. What I've found, however, is that a long list of tools, with only a few sentences describing them, didn't help me much unless I was willing to visit the developer's web site and figure out for myself whether it might be helpful. It was pretty typical for me to click a link or two, rummage around to see if I might benefit from it, and then move on.
I almost never returned to that page and like you, moved onto the next thing and never got back to it. I never really had a chance to look carefully at any particular tool because there were too many of them listed and not enough information about each.

We're doing it differently.
We're experimenting with a different process. Rather than overwhelming you with a long list of tools with only a few sentences each to describe them, I am going to send you a separate email each day …
For 5 days in a row
… highlighting one particular tool each day. You won't get just a brief summary, but will learn the most important features and why this tool can boost your productivity.
You will have a chance to focus on that single tool and really evaluate it as to how it can fit into your workflow and regular toolkit. You can accumulate a few of these emails for when you have a little more time, but you will get a lot of information about each of them that you won't find anywhere else.

I'll walk you through …
What is it?
What Does It Do?
How Do I Use It?
How will it improve my productivity?
Is there a free trial? What's the real cost?
Are there video tutorials?
Is the product available for the PC as well as the Mac?
Are there brother/sister apps that work on tablets and smart phones? How are they synchronized?
I've even included a special section entitled "Favorite Tips". It highlights proven workflows, and sometimes more obscure features I have found and put to work. Even if you already use one of these programs, I'll wager there are still many features you may be missing that I have uncovered.
In addition to the Favorite Tips, I'll point you to articles and video tutorials where you'll learn something to make that tool more valuable for you.
Thank you for being an Exkalibur subscriber
This is my way of thanking you for your loyal support and for your commitment to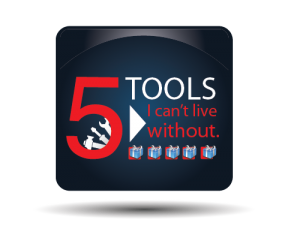 becoming a more effective leader. You don't have to do anything more than you've done … and you will automatically receive this FREE mini-course … FOR SUBSCRIBERS ONLY … starting Monday.
If you're not a subscriber, sign up now so you don't miss this FREE mini-course, 5 Tools I Can't Live Without. (There are also some special bonuses just around the corner, so make sure you stay engaged and take advantage of this head start on building your digital toolkit.