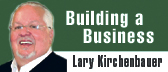 A practical approach to tracking projects and getting things done
"80% of success is just showing up."– Woody Allen
Just when I thought we had covered the waterfront with respect to accountability, I'm reminded of the linchpin of true accountability – the very simple concept of follow up. During my recent travels among area CEOs, I've been repeatedly reminded of how remarkably little attention is paid to this simple concept.
Why do we ignore the follow up?
It seems so obvious that I wonder why I'm writing about it … and yet, routine follow up is often ignored in the hustle for the next opportunity or when there just isn't another finger to put in the dike. The New York Times lamented recently about the lapse in our social manners reflected by people's failure to respond to RSVP invitations, much of which I'd chalk up to this follow up laxity.
We don't forget to follow up on our most important clients or prospects, but the falloff from there is precipitous. It's a process that is halfheartedly pursued by so many that it's no wonder so few things get done on time – or at all.
There are a number of reasons for this that you may recognize in yourself.
We expect the other person to get it done
A major one is the expectation that the person on whom we're counting will faithfully execute their responsibility and that no follow up is required. How's that working for us? Not so much.
The reality is that most things we're waiting for – phone calls unreturned, unanswered e-mail, proposals to customers or prospects without response, unsigned contracts, internal projects – represent an almost endless list. Yet, most of us don't have any kind of a "waiting for" list to track all of the expectations we have from others even though they are often critical to our success.
Is this micromanaging?
It's not micromanaging, if you're excusing your poor follow up because of that fear. Micromanagement results in excessive attention to minor details, but follow up is continually seeking progress on established initiatives. If you're watching timelines, the period during which a project or task is being done, rather than the deadlines by when they're due, follow up might be seen as nothing more than shepherding a project to a successful conclusion.
There are some ancillary, yet powerful benefits to a good follow up system. First, it reinforces the expectation that a response is needed and increases the probability that it will actually get done, an important tenet in a responsible organization. It also reveals situations where resources are over-committed, giving both parties a chance to renegotiate the commitment so that it works for everyone.
Sales executives understand this concept well
Sales people understand this concept better than most. It's a competitive marketplace and staying on top of opportunities is a proven tool to build loyal customers. It also demonstrates a level of interest and commitment that is noticeably absent in most such relationships. We're pleasantly surprised when people are really responsive and get back to us when promised. It feels that way because that level of attentiveness is but a casual interloper in most relationships
Improving this skill is an important feature of personal accountability. Start by carefully tracking everything you're waiting for … incomplete tasks, unreturned phone calls, proposals without response, unrequited love, whatever it may be. Likewise, follow up on them after you've allowed reasonable time to pass but haven't heard back. Also, insist upon progress reports during the timeline when work is being done, orally or in writing, whatever works.
Simple? Yes, but as rare as a cravat and a boutonniere. If you can develop a dependable system, you'll amaze everyone around you with your responsiveness and reliability.
KBO
**********************************************************************************
The North Bay Business Journal, a publication of the New York Times, is a weekly business newspaper which I have served as a regular columnist for the last two years. The Business Journal covers the North Bay area of San Francisco – from the Golden Gate bridge north, including the Wine Country of Sonoma and Napa counties.
******************************
Any related materials or articles referenced in the published column, or otherwise applicable, are referenced in this digital version of the article.