What Does It Take to be a Great Leader?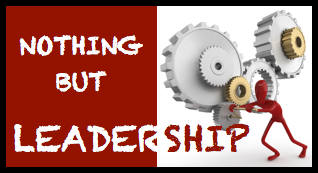 Every Tuesday, we're sharing valuable and practical leadership tips and tools to help you BE a better leader so you can BECOME a better leader. Remember … you won't BECOME a better leader until you start BEING a better leader … implementing NOW the changes necessary to adopt the proven strategies of successful leaders. You might start by building on the communication matrix and making sure you're defending the castle to get done what only you can do. Make sure to take some time so you're thinking past today.
Our new series on the building blocks of L.E.A.D.E.R.S.H.I.P. continues today. You should read the introductory article, The Cornerstones of Effective Leadership, and continue with L = Loyalty, E = Excellence, A = Attitude, D = Discipline, E =  Education and R = Reliable.
___________________

"You're gonna have to serve somebody."
—Bob Dylan
___________________
Success. Solitude. Sacrifice. Satisfaction. What to do with one of the most popular letters in the English language when there are so many leadership qualities we could identify that start with "S"? A lot of tempting choices, but S = Service best expresses another inescapable quality of great leaders.
Are you a Servant-Leader?
You've probably read something of the body of work around the servant-leader. Robert Greenleaf is generally credited with coining this term, and while he never proffered a definition, in his 1970 essay, "The Servant as Leader," he offers this description:
"The servant-leader is servant first. … It begins with the natural feeling that one wants to serve, to serve first. Then conscious choice brings one to aspire to lead. That person is sharply different from one who is leader first, perhaps because of the need to assuage an unusual power drive or to acquire material possessions…."
Start with the premise of Service
This is the seventh article in our 10 part series, The Cornerstones of Effective L.E.A.D.E.R.S.H.I.P.
In short, it is the service mentality of great leaders who recognize that their principal mission is to serve their constituents and to support their activities in every way possible. By starting from this premise, servant-leaders provide resources, counsel, direction and, yes, protection for those working to serve their organization's purpose.

We still struggle with a Command & Control culture
Thirty years ago, and even today, we lived in more of a command and control culture. I freely admit I was front and center in that culture, in part nurtured by military service, but as well by the demanding and dictatorial bosses with whom I worked in my early career. My good fortune was that my next boss was the polar opposite of the previous leader with whom I served, and was the epitome of the servant-leader. He made sure that his people were supported, nurtured and challenged — but only in ways that served the individual and the organization and never in a threatening or intimidating manner.
We all operate in a Service business, don't we?
This should be an easy concept to grasp since we all operate in a service business of some sort. If you have customers or clients of any type, shape or size, whether in a commercial or not-for-profit organization, serving them is your principal mission. In fact, serving all of your constituents is really the ultimate measure of your success and will reward you and your organization more than any other single thing you can do.
Companies like Zappos and The Container Store have focused on creating employee-centric cultures, and I've come to believe that the "customer first" mentality is looking through the wrong end of the telescope. The evidence is compelling that by taking care of our employees first and foremost, they will, in turn, take care of the customers and the other constituents that make our organizations run effectively.
Walk the Walk: You're only here to serve
I frequently invoke the phrase "I'm only here to serve," and while it's sometimes rendered with an impish grin and a little hyperbole, it does represent the essence of our roles no matter how it's stated. Yes, it may sometimes sound a little gratuitous … but by relentlessly validating that approach with our deeds and conduct — by walking the walk — it creates an infectious attitude that's always welcome.
Serving is not always convenient
To serve also means you're on call. It doesn't mean that you must have an open door every minute of the day, but it does mean that you stand ready and willing to serve your troops, and recognize their needs don't always come in handy doses delivered at a convenient time. The test of a true leader is the ability to be present, to be reliable and disciplined about how to serve her team, and her willingness to go the extra mile to make sure that she's serving her team, when, and where needed.
Serve your family first
So when you get up in the morning, serve your family. When you arrive at the office, serve your employees. When you're in the field, serve your customers and suppliers. Don't get run over, lose money or make accommodations that are unreasonable. Bring a positive "service" attitude as your sidekick and be willing to go the extra mile to serve everyone in your universe.

Then, Serve your employees. They'll Serve your customers
Think "service" in your dealings with your employees and other communities, and you'll find that it empowers everyone to find ways to meet the organization's goals. As you become a better servant-leader, the people around you will notice and celebrate your service to them by extending that service mentality to your customers while delivering superior performance.
What's not to like about that kind of service?


********************************

This article was published in the August 1, 2011 edition of the North Bay Business Journal, a publication of the New York Times, and a weekly business newspaper which I have served as a regular columnist for over three years. The Business Journal covers the North Bay area of San Francisco – from the Golden Gate bridge north, including the Wine Country of Sonoma and Napa counties. The electronic version of this article, as published by the North Bay Business Journal, may be found here.
**********************************************************************************
Lary Kirchenbauer is the president of Exkalibur Advisors, providing practical business strategies for family and other privately owned businesses in the middle market. Exkalibur works closely with senior executives and their businesses in the wine and other industries, and hosts the Exkalibur Leadership Forum for leaders of middle market companies in the North Bay. Please visit Exkalibur.com for a library of valuable resources, articles and insights or connect on Twitter, LinkedIN or the Exkalibur fan page on Facebook.