This 7-part weekly Leadership series is about
R.E.S.P.E.C.T.
–
How to get it by earning it!

Over the next 7 Thursdays, I'll describe 7 remarkably simple components of R.E.S.P.E.C.T. that you can apply to your everyday conduct. The ability to earn R.E.S.P.E.C.T. is a critical Leadership quality … and we have absolute control over the actions we take to earn it. Since it's impossible to be an effective leader without it, let's devote some time and energy to learn how to give it. Are you with me?
____________________________________________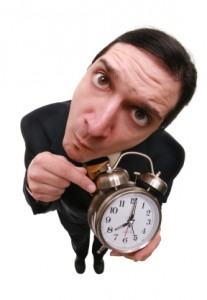 It was one of those days when I was already behind plan. I got to the meeting destination on time but I didn't get a chance to find the missing file I needed for a later meeting or grab the dog food I swore to my wife I would drop off at the vet.
I was already a little irritated by all that, particularly by forgetting the coffee I had carefully prepared for the drive … and now getting even more irritable …
… because the other party still wasn't there after 20 minutes!
When he came bungling in, it was with that bit of insouciance that makes you want to pour cabbage soup down his jumpsuit … and then with the … "sorry, man, my other meeting ran late and I tried to call you but my cell battery was almost dead and I had to use the juice to call a client and I was rushing to get here" …. yeah, blah, yeah.
What are you and I thinking when this happens to us … other than channeling Carnac the Magnificent and hoping that an evil genie will plant splinters in his bathing suit?
We know that there are lots of excuses reasons why people are late … and at one time or another, we've all probably used them. But, do you know the universal reason why most people are late in the first place?

You never make it out of the driveway when you think you will
Answer? We think we're actually going to get out the door at the time we've chosen to leave … but, here's the problem. By the time you pack up, find the coat your wife took off the back of the chair and actually hung up, turn out the lights, let the dogs out one more time, locate that file you almost forgot, the vet food … you see where I'm going?
This is the first post in a weekly Leadership series, entitled R.E.S.P.E.C.T. How to earn it by showing it. "R" signifies "Right on time. Every time."
Even though we're smart enough to know when to leave … and might even allow a few extra minutes for unpredictable travel events … that's not when we really leave.
We think departure time is when our car is backing out of the driveway … but it's never backing out when we figured.
If you're like my darling wife, you may also be checking to make sure the gas is off? … for the 2nd time … did I lock the back door? … did I leave my scarf in the trunk? … etc.
Doesn't leaving early waste time?
There's a mind-numbingly simple cure for the curse of tardiness …  
Read the full post »