A Weekly Business Finance series for Non-Finance Executives!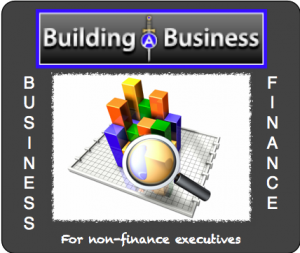 "Financial Adrenaline" is a term we love around here because it reflects our commitment to help you turbocharge your business with practical tips and techniques to improve free cash flow, the lifeblood of business. Every Wednesday, we're sharing a new Business Finance Tidbit specifically for those business executives who don't have a finance background. You'll get a head start by reading Warren Buffett's letter to shareholders this year, and his comments about depreciation.
____________________________________________
"The importance of knowing accounting can not be underestimated, it's the language of business. If you don't know it, it's like being in a foreign country without knowing the language."
Warren E. Buffett, CEO of Berkshire Hathaway, Inc.
We're making money … but we're broke?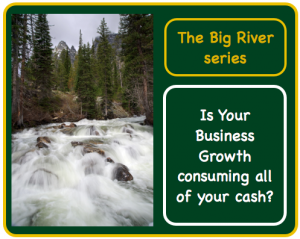 "We're broke," Tom mumbled to himself. Tom Sampson is the controller of Ace Business Stuff and was reviewing his latest calculations about their cash flow.
"What do you mean, we're broke?" Tom looked up sheepishly to see John Wilson standing in his doorway. He fingered his collar and turned to address the company's CEO. "We can't be broke because business has never been better," John said. "Our sales are up over 20% and we've even knocked a few percentage points from our costs so our margins are up, too. Our operating expenses are about where we expected, so we should be hitting the ball out of the park."
How can we be out of cash?
The "Big River" is a 12 part series that begins today. Join us on this journey to learn how to deal with some of the most critical finance issues facing business today.
"You're right about our profits, John. We're on our way to our best year. We're just out of cash."
"How can that be, Tom? We just agreed that we've having a record year."
"John, we've discussed this before. Profits aren't the same as cash. Profits are the excess of revenues over costs, measured when we deliver our products. Cash flow is the excess of what we collect from those sales, less what we use to run our business. They don't always occur at the same time . . . or the right time."
"But, Tom, if we have more revenue than costs, then we've got to have extra cash, particularly if we're on our way to a great year. Something's wrong here. Have you double-checked with the bank?"
You've probably heard a version of this somewhere
This conversation, in many forms, takes place every day in conference rooms and hallways across America. You may have been in a few. Business is starting to grow again; the company is ready to start investing in people as well as property, plant and equipment. It's expanding operations, adding product lines and serving customers. Business is prospering . . . but there is a limited understanding of the accounting and cash flow implications of those plans.
Have you double-checked with our bank?
"John, I don't need to check with our bank. There are no missing deposits and we've reconciled all of our accounts. The problem is that we've invested all of our cash in the business and we're not going to be able to meet payroll."
"Didn't you see this coming, Tom? You said we're on top of the bank stuff and our accounts are clean. Why didn't we see this sooner?"
"John, we're lucky we're even seeing it now. It was only when I saw our receivables climbing faster than our revenue that I knew something was off. It was Jody who told me that the salesmen got approval to extend our payment terms from N/30 days to N/60 days."
"We had to do that, Tom. Our customers have expanded their purchases from us because we're able to offer more generous terms than our competitors. That's what's fueling our growth."
There are lots of ways to run out of cash
"Which is exactly why we're out of cash, John. We've got all of these extra sales but we haven't collected any cash from them yet because we've given the customers longer to pay. Nobody told me, or our purchasing manager, so we didn't have a chance to reach a similar deal with our own vendors. So, we're stuck with having to pay them on time, plus with the people we've added, our payroll is up and we have to pay that every 2 weeks no matter what."
We love the Big River … but it consumes everything in its path
What John Wilson, CEO, is painfully discovering in this simplified example is that the flow of profits and the flow of cash are asynchronous, that is, they don't follow the same pattern. The kind of accelerated growth that ranges at or above 15% per year is what I call the "Big River", and the bigger the river, the greater its impact on everything in its path. It's indiscriminate as it absorbs the cash faster than the profits can keep up.
In the conversation between Tom and his CEO, the Big River is consuming all of the company's liquid assets. Managing the growth rate of your business is critical because the growth rate is the engine that drives so many of the issues critical to our business success. DilutionA reduction in earning per share of common stock that occurs through the issuance of additional shares or the conversion of convertible securities. … LeverageLeverage can mean several things. 1) The use of various financial instruments or borrowed capital, such as margin, to increase the potential return of an investment, or 2) The amount of debt used to finance a firm's assets. A firm with significantly more debt than equity is considered to be highly leveraged.. … ValuationThe process of determining the current worth of a company. An analyst valuing a company may look at the company's management, the composition of its capital structure, prospect of future earnings, and market value of assets. Judging the contributions of a company's management would be more subjective, while calculating intrinsic value based on future earnings would be an objective technique. … LiquidityThe ability to convert an asset to cash quickly. Also known as 'marketability'. There is no specific liquidity formula, however liquidity is often calculated by using liquidity ratios. . . . . and more.
What's the best way to evaluate the impact of growth?
During this series, you'll learn about a variety of practical tools you can put to work immediately, e.g., to evaluate borrowing capacity, trade cycle investment and other important variables.
"John, I'll put something together this afternoon that we can review in the morning. I think it will help to see some live data that illustrates this point clearly."
"Great, Tom, the sooner the better. I'm thanking my lucky stars that I invested what I did when we started this business. Otherwise, we'd be even further in the hole."
Where is all that cash going?
"It's not as bad as all that, John. I think we've got a good story to take to the bank. We've got solid receivables and inventory, so we should be able to borrow enough working capital to get through this period, collect our receivables and better align our terms with our vendors and our customers.
"You were right, John. This is a good time to call our bank."
What's your experience? Have you run out of cash just as you thought your business was picking up?
____________________________________________
What's next?
This is the first part of a 12 part series called the "Big River". For me, Big River signifies the growth path that so many companies follow, or are seeking, and the dangers that lurk along the shoreline as the Big River races forward trying to consume everything in its path. Next week you'll learn how to begin to evaluate your bank borrowing capacity.
FINANCIAL ADRENALINE is the most powerful program available to educate middle market business executives about the value of Business FinanceOur Business Finance section will include the core of business finance principles that drive superior performance at a strategic level and that can be integrated into your everyday business decision making.. Let us help you inject Financial Adrenaline into the cash flow of your business to drive lower risk and sustainable cash flow ... and prevent finance from being the reason for business failure.